Located in the lobby of the OFJCC's Fitness Center, the Palo Alto Library Pushcart branch is available to everyone — OFJCC members, Moldaw residents, preschool families, Kehillah Jewish High School students, and the general public. JCC membership is not required to check out materials from the Library Pushcart.
Select from newly stocked popular Jewish literature, mysteries, probing commentary and nonfiction, delightful children's books, and more. Request titles from the Library's catalog of nearly 40,000 items, to be delivered to you at the Palo Alto Pushcart. Return materials to the Pushcart, or anytime to the Fitness Center front desk. Send questions, comments, reviews, and requests to Leah Strauss, Reader Services Librarian, at leah@jewishcommunitylibrary.org.
When you arrive by car at the OFJCC's entrance kiosk on Fabian Way, let the guard know you're visiting the Library Pushcart. OFJCC membership ID is not needed. Park in the structure beneath the OFJCC and take the elevator or walk upstairs to the main level. The Library Pushcart is located in the Fitness Center Lobby (Building A, on the right at the top of the stairs).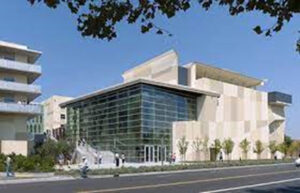 Drop Box at OFJCC Fitness Center
Return your books to the Library Pushcart during operating hours (Wednesdays, 8:30 AM to 1 PM) or anytime to the OFJCC Fitness Center front desk. Materials will be checked into the Library the following Wednesday.