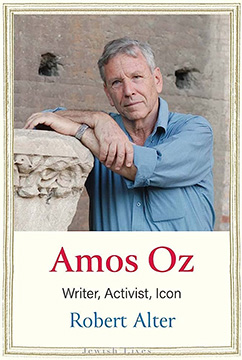 Amos Oz: Writer, Activist, Icon, with Robert Alter
Join us at this free in-person event with free garage parking at 1227 Pierce Street.
To register, click here. Books will be available for purchase and signing.
Amos Oz (1939–2018) was one of Israel's most prolific and prominent writers, as well as a regular contender for the Nobel Prize for Literature. He was the author of dozens of novels, essay collections, and novellas written between 1965 and shortly before his death.
In this biography, celebrated translator, literary critic, and biblical scholar Robert Alter explores Oz's relationship with his family, beginning with the suicide of his mother, when he was twelve years old, and goes on to review his time in Kibbutz Hulda, which he entered at fourteen following his separation from his father; his family's right-wing Zionism; his writing career; his activism in support of a pluralistic Israel; and his work as an international lecturer.
In examining Oz's life and work, Alter brings together testimony from Oz and his circle, as well as close readings of his central works, to present Oz's inner world and public persona.
Robert Alter is professor in the Graduate School and emeritus professor of Hebrew and comparative literature at the University of California, Berkeley, where he has taught since 1967. He has written prolifically across themes that range from the history of the novel, to the literature of urban experience, to the modernist engagement with tradition, to the poetics of the Bible. His influential biblical scholarship culminated in his three-volume translation of the Hebrew Bible.
Co-presented by New Lehrhaus.