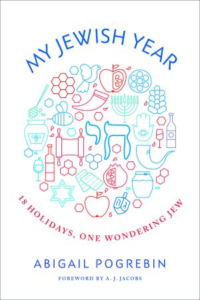 By Howard Freedman, Director, Jewish Community Library
As we approach the New Year, Abigail Pogrebin's My Jewish Year: 18 Holidays, One Wondering Jew (Fig Tree Books, 2017) can be a good point of entry to the upcoming holidays and their possibilities. As someone who grew up with a very limited repertoire of observances, Pogrebin decided to immerse herself in the entire holiday cycle from Elul to Tisha b'Av and chronicle her learning journey. Her book is a deeply personal reflection on her, peppered with wisdom from the many rabbis and teachers she consulted. I found it a particularly striking book to revisit at this moment, as the highly experiential and communal dimensions of holiday celebration that were essential to Pogrebin's path of discovery have represented a great challenge during our pandemic era. I have become especially cognizant of the impact of the broken rhythms in my own life, and I'm inspired to make this year one of returning to some of the practices I've let go.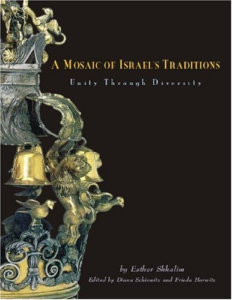 Particularly because few books on Jewish holidays depict the varieties of observances across regions, Esther Shkalim's generously illustrated A Mosaic of Israel's Traditions: Unity Through Diversity (Devora Publishing, 2006) remains a unique resource. It highlights the rich holiday traditions of many lands—ranging from special clothing to ceremonial meals to ritual practices—as collected by Israeli students from their families. The book gives the reader a valuable window on the tremendous diversity within the Jewish world.
Both books can be borrowed from the Jewish Community Library. My Jewish Year can also be read as an eBook or audiobook through the Library's electronic collection, available at no charge to Bay Area residents.